Self-care should be your number one priority, with so many proven benefits to practicing it and working on your well-being! In this article, I've gathered some insights from my book, The Power of Emotion, to help you advance your emotional intelligence and find the beauty in self-care.
---
THE POWER OF EMOTION | CHAPTER 19 | OVERVIEW
---
Self-Care Benefits: Recharge Physically, Emotionally, and Mentally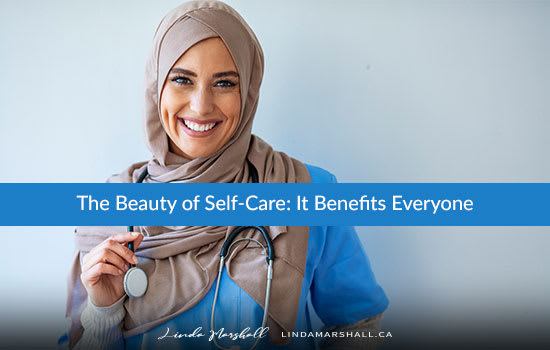 Self-care is about preserving your physical, emotional, and mental health, and it's not a selfish act. When we make time for ourselves, like taking a lunch hour, having a cup of tea with a friend, or going on a long walk, we give ourselves permission to refresh and re-energize. These necessary acts reduce stress in our lives. 
Making a shift with self-care
Making self-care a part of our daily routine and schedule benefits us and everyone around us.

Gardening, yoga, massages, bicycle rides, and other physical activity release chemicals such as serotonin and endorphins in our brains. They not only assist us in being alert and happy, but they also engage and reinforce parts of the brain that help us reason, plan, organize, and make decisions.

(Take a look at this post next to learn how to instantly improve your emotional intelligence)
Participating in physical activity supports the flow of natural systems and our body and mind recharge, which leads to improved self-management, a critical EI personal competency.
How to Shift Your Focus to Self-Care
Put yourself first
For those who want to focus on self-care, we must start by putting ourselves first.

That's not easy when we excel in placing everyone's needs ahead of our own. How often have you scheduled something for yourself: a class or seminar, and cancelled it at the last minute due to other priorities?

Finding a coach to help you place yourself at the top of your priority list is worth considering, especially if this is one of your goals. I recommend choosing an area you would like to work on and finding someone compatible to provide support.
Laugh and smile
When was the last time you had a really good laugh that left a smile on your face and your cheek muscles aching? How did that make you feel? Often just observing others' smiles or laughs will change our mood.

Watching a funny movie, a television sitcom, or reading a book redirects your mood to feel better because laughing and smiling signal your brain to convey happiness. Once that occurs, the thoughts your mind produces become more positive. These distractions allow a positive frame of mind, providing you control over uncomfortable emotions.
Adjust your daily routine
There are all kinds of other ways to adjust your daily routine in a way that allows you to incorporate more self-care and reap these benefits of self-care.

Here are some ideas:
Get 20 minutes of morning sunlight
Turn off your computer at least one hour before bedtime
Avoid caffeine, especially in the evening
Discover More Self-Care Benefits
The benefits of self-care are just one topic I cover concerning emotional intelligence in my new book, The Power of Emotion. Get your copy today if you'd like to learn more about this and other topics like resiliency, working on your well-being, developing a growth mindset, and social awareness.
Did you learn a lot from this post? Here are three more to read next:
---
Get Social With Linda Marshall and Share