For relationships of all kinds to be successful, they must also be trusting. In fact, if you ask me, emotional intelligence and trusting relationships are paramount to personal, emotional, and professional team success. Here's more on trusting relationships from my new book, The Power of Emotion.
---
THE POWER OF EMOTION | CHAPTER 25 | SOCIAL AWARENESS
---
The Importance of Building Trusting Relationships and Why Vulnerability Is Crucial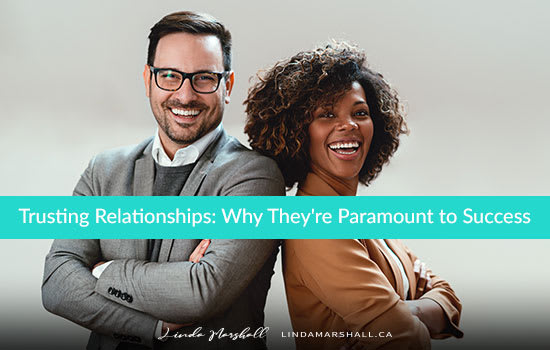 How vulnerable are you with your team?

Building trust is crucial to developing and maintaining solid relationships. It's also the foundation of high-functioning teams.
Trust is the backbone of any relationship
The critical elements of Trust include:
Having confidence in someone
Finding them reliable
Feeling safe, both emotionally and physically, with them
Building trust requires a certain amount of vulnerability. It also means team members should work in a comfortable environment and not need to protect themselves from one another.

According to organizational health guru Patrick Lencioni, distrust can affect morale, staff retention, and a team's overall productivity. He notes that when team members are unable to develop trust, it leads to wasted time and energy.
The Importance of Trusting Relationships in Team Dynamics
Lencioni also explains, "Trust lies at the heart of a functioning, cohesive team. Without it, teamwork is all but impossible."
Interpersonal relationships are roadblocks to work synergy and productivity when working with struggling teams in the workplace. When team members don't take the time to get to know each other and understand how their roles and those of their team affect each other, it can lead to "a lack of chemistry," making it challenging for the team to succeed.
While we're talking about trusting relationships, it's also an excellent time to revisit this article on relationship management. 
What role does vulnerability play?
Sharing your deepest feelings, including your fears, may be necessary if you want to build trust. However, it's hard to share if you're concerned your vulnerability may be used against you. After all, fear is a strong emotion, and why many perceive vulnerability as risky behaviour and a weakness.
But the benefits outweigh the risks.

Embracing vulnerability increases our emotional intelligence and creates a deeper connection with others. As you open yourself and share your challenges and personal struggles, you can better relate to others and expose the real you.
Looking for more ways to increase your emotional intelligence? Take a look at this post next. 
When trust is broken
When trust between colleagues is broken, it's problematic for all.

Working together can become disheartening and challenging, and productivity is often threatened. Building trust with someone is a huge emotional commitment that takes considerable time, so it's not difficult to imagine the effort involved in repairing broken trust.

(Are you dealing with challenging team members at work? Visit this link next for strategies to move forward successfully)
Here's what I know to be true about trusting relationships
Trust has a powerful way of making or breaking a relationship. Embracing vulnerability improves our connection and enhances our emotional intelligence in interacting with others. It's impossible to be vulnerable when there is a lack of trust.
Are you interested in building trusting relationships and establishing deeper connections, my new book, The Power of Emotion, shares several powerful and actionable strategies? Click here to order your copy today.
---
Get Social With Linda Marshall and Share